Who doesn't love pizza? Last Friday evening, we invited our teen students to join us for a pizza party. But what made the event fun was that each student made their own pizza (or pizzas) themselves! This was a great way to practice food and cooking vocabulary, and learn some new culinary skills in the process.
Before the students arrived, we lit a fire in our brick oven (tatakua) to make sure it would be really hot for baking the pizzas. Earlier in the day, I made a big batch of pizza dough, and by the time the first students started arriving, the dough had risen nicely and was ready to go. As part of her English class, Anita, one of our teachers, had prepared many different pizza toppings with her student – chopping pineapples, ham, peppers, and onions, shredding cheese, and cooking a delicious herby tomato sauce to use as a base. By the time everyone arrived, we had a big table set up near the brick oven with all the toppings, the dough, and the other tools we would need.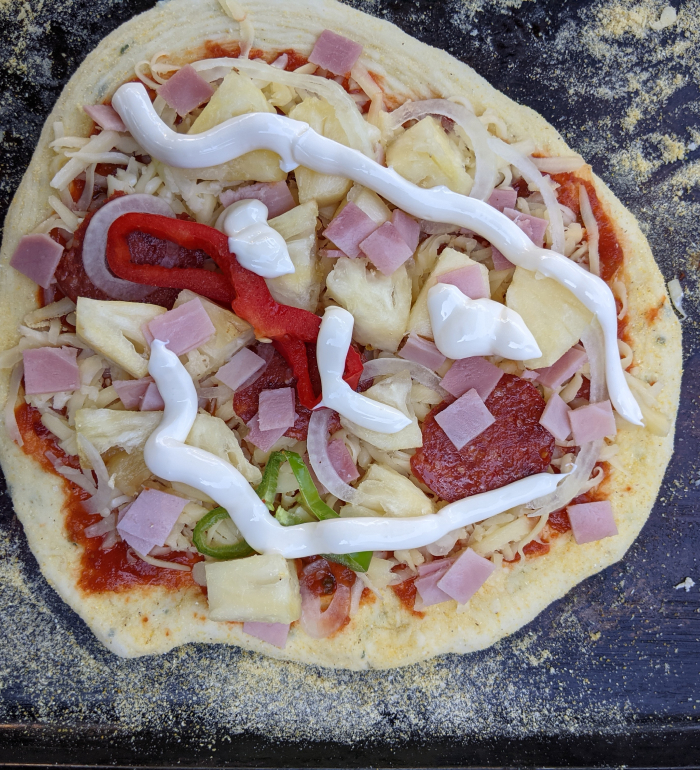 And then the fun began! We loved seeing our students' creativity flow as they rolled out the dough, spread on the tomato sauce, sprinkled on the cheese, and then layered on toppings of their choice in interesting patterns or shapes. Some even used pepperoni and pineapple to make funny faces on their pizza! One student turned a pizza into a portrait of her dad, and took it home to him after the party. We loved watching our teen students show off their culinary prowess and interact with each other, and our families, in English. Here's to many more pizza parties at Primavera English!